Determining Time-sensitive Networking
To realize truly converged and interoperable networks that can simultaneously process critical and noncritical application data in a single industrial environment, the Time-sensitive Networking (TSN) Task Group of the IEEE 802.1 Working Group is defining a set of standards for enabling the deterministic transmission of data over standard Ethernet networks. This added layer of functionality future-proofs longstanding Ethernet technology and extends its use in a vast array of new applications.
As a collection of standards, the concept of Time-sensitive Networking is more like a tool box than an all-in-one solution; you need to understand what "tools" are available and how each tool works in order to determine which tools are appropriate for your application.
Depending on the application requirements, various combinations of these tools can be put together to build infrastructure for specific needs or purposes. For example, one TSN profile being defined by the IEC/IEEE 60802 Joint Project aims to provide a guideline on what standards to choose from the toolbox and how they can be used in industrial automation applications.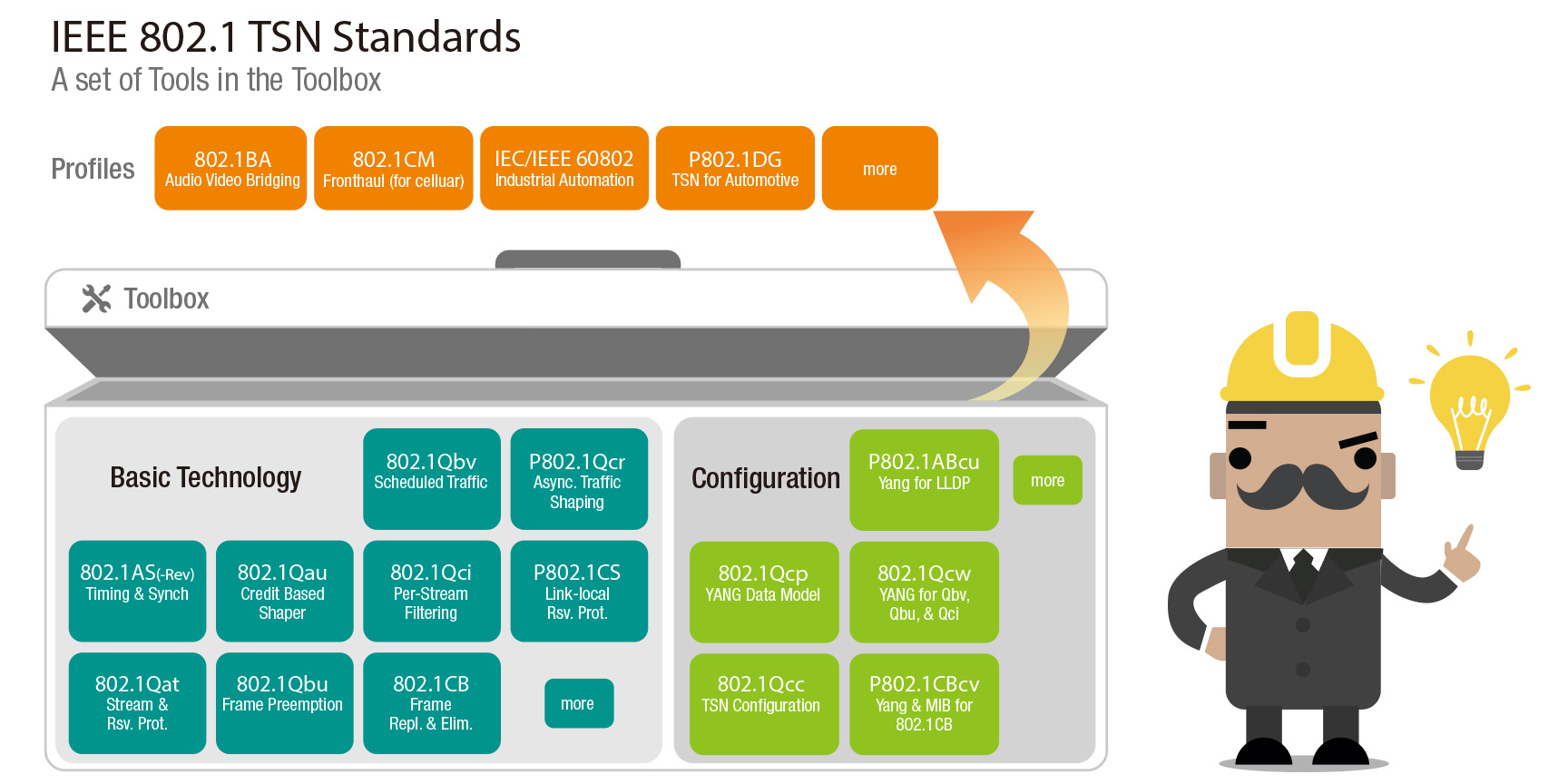 The TSN toolbox contains a set of functional and configuration standards that be combined into application profiles.
From an overarching perspective, all standards in the toolbox can be categorized into one of the following aspects of TSN:
1. Time synchronization
As the name suggests, "Time-sensitive Networking" focuses on establishing a common time reference between all devices within a unified and interoperable infrastructure, which forms the foundation of its entire operations.
2. Bounded low latency
By adopting the concept of non-negotiable time period allocation for end-to-end transmissions, these components ensure deterministic data transmission over the network.
3. Ultra reliability
To implement and maintain all aspects of a deterministic networking environment, a set of components has been defined to ensure optimal reliability and security.
4. Resource management
When the network and applications become more converged and larger in scale, additional tools are required for provide better manageability and visibility.
Besides providing the standard Ethernet hardware for creating unified infrastructure that conforms to TSN standards, Moxa has been actively participating in cross-vendor TSN plugtests and testbeds around the world, such as the ones hosted by the Edge Computing Consortium (ECC), Labs Network Industrie 4.0, the Industrial Internet Consortium (IIC), and the Alliance of Industrial Internet (AII). Moxa is also one of the initial supporters of the OPC Foundation Field Level Communications (FLC) initiative to promote the development of TSN technology. TSN is bringing together many different industry organizations and market leaders under a common goal to realize the full potential of Industry 4.0 and the promise of digitization.
For more information about TSN and its applications, download our white paper.